Go to Index of Virtually Berkeley
360° Photographs around Berkeley, California.
Click on pictures for BIGGER views.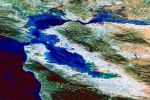 The Space Shuttle view of the San Francisco Bay has clickable red-spot locations of the pictures seen below.
Each enlarged photo has a Latitude and Longitude number which can be pasted into Google Earth with spectacular results.


A 360° view from the top of the University of California, Berkeley Campanile.


The central pedestrian intersection at the center of Berkeley Campus.